HIRE OUR HALL ???
OUR FIRST FLOOR HALL IS AVAILABLE FOR HIRE FOR ANY OCCASION.
FROM BIRTHDAY PARTIES TO DANCE CLASSES.
OUR HALL HAS A BAR AND TWO BAR STAFF WILL BE AVAILABLE FOR PARTIES.
OUR HALL ALSO HAS SEATING AND TABLES AND A STAGE FOR A DJ OR PERFORMER.

WE NOW ALSO HAVE FOOD AVAILALE FOR YOU TO ORDER.OR YOU CAN ENQUIRE ABOUT SEPERATE CATERING.

OUR HALL IS ONE OF THE LARGEST IN THE WOKING AREA.
CALL 01483 762146
EMAIL Wccbarandfunctionsmanager@outlook.com
OR MESSAGE US ON FACEBOOK WCC HALL HIRE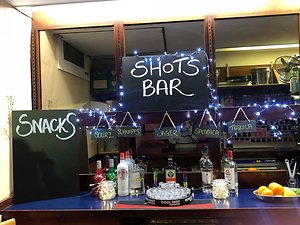 UNFORTUNATELY PRIVATE PARTIES CELEBRATING BIRTHDAYS MUST BE FOR 21ST AND ABOVE
WE SERVE A WIDE RANGE OF REFRESHMENTS SUITABLE FOR BOTH CHILDREN AND ADULTS.

OUR HALL CAN HOLD UP TO 115 PEOPLE.

IF YOU ARE STRUGGLING TO FIND A DJ OR ENTERTAINMENT FOR YOUR DAY THEN ASK US; WE ARE ABLE TO RECOMMEND PEOPLE.
IS THERE A SPECIFIC DRINK YOU WANT AVAILABLE AT YOUR PARTY?

NO WORRIES; JUST LET US KNOW WHEN YOU BOOK AND WE WILL DO OUR UPMOST TO PROVIDE EVERYTHING YOU WANT TO MAKE YOUR PARTY SPECIAL.