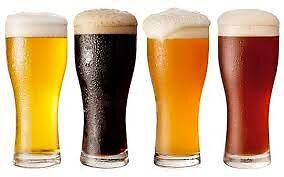 DISCOUNT BEER PROMOTION
£ 2.00 PER PINT

During ALL England matches, the club price will be £ 2.00 per pint for Lagers, Guiness, Ales and Ciders (excludes Asahi which will be reduced to £ 3.00 per pint)

Please be aware EURO 2020 starts on Friday evening the 11th June 2021 at 20:00 hours

The club will be showing ALL Euro 2020 games

Come up and watch a game whilst drinking a great discounted pint

THE CLUB IS NOW OPEN

In line with Government Guide Lines, the club has re- opened on Monday the 17th May.

There will, of course, be restrictions in relation to social distancing etc. (As there was in previous lockdown)

You MUST come into the building by the front door and leave by the rear entrance. You will be required to sign in and use hand sanitizer before you sit at a table, when your mask can be removed. You must remember to remain at your table and keep socially distanced from fellow members. We will be offering Table Service. All these instructions, although now familiar, sound regimental, but are essential for the continued fight against Coronavirus. We know we can rely on your co-operation for everyone's safety.

Club is now open to Members Only (until further notice). No guests

The following days for the rest of the week will be normal opening.

18th May onwards. Tuesday, Wednesday, Thursday – 5pm
Friday - 3pm
Saturday and Sunday - 12.00

If you have already applied for your membership, your cards will be available behind the bar when we open. During the next month, following our opening, we are welcoming Members only

=========================================================
MEMBERSHIP SUBSCRIPTION RENEWALS.

At the beginning of the year we ask members for renewal of subscriptions and I am sure you will understand that the Club has been unable to function to its fullest capacity since the middle of March 2020, and as such, has spent a lot of money ensuring that the environment is as Covid secure as possible, such as screens, extra cleaning, sanitisers, as well as needing, from time to time, to employ staff for table service.

There could have been a case to raise membership fees to cover some of these costs, but as a gesture of goodwill, and to show our appreciation of your loyalty and patience in these difficult circumstances, we have agreed to keep them at the current rate of £25.
We hope you all understand this decision.

A renewal form can be downloaded by copying and pasting the below into a new address bar:

https://mcusercontent.com/90a060bc28bb041d36aa1b08c/files/c67954a0-3406-469f-85a6-06fd5117b2ca/Membership_Renewal_Form_2021.doc

If you want to pay by bank transfer please use the following bank details:

Lloyds Bank Sort Code: 30-99-80 Bank Account No: 00505238

Please be certain to mark the payment with your name/Membership No.

Renewal by cheque made payable to The Woking Conservative Club Limited, can be posted through the Club letterbox, at the front of the building, or posted to Mount Hermon Road, Woking, GU22 7TA

Many thanks to those who have already renewed their membership; your new cards will be available behind the bar, once we re-open.


PLEASE READ AND ADHERE STRICLY TO THE REVISED SOCIAL DISTANCING RULES BELOW

ENTRY TO THE BUILDING MUST BE MADE FROM THE FRONT ENTRANCE

WHEN LEAVING THE BUILDING THIS MUST BE MADE FROM THE REAR EXIT TO THE CAR PARK

YOU MUST SIGN YOURSELVES IN UPON ARRIVAL WITH YOUR NAME, MEMBERSHIP NUMBER AND DATE/TIME OF ARRIVAL

SEATING AT THE BAR WILL NOT BE PERMITTED. TABLES AND CHAIRS ARE PLACED IN SPECIFIC POSTIONS AND MUST NOT BE MOVED

THERE WILL BE NO LIVE ENTERTAINMENT UNTIL FURTHER NOTICE

PAYMENT WILL BE MADE (PREFERABLY BY CARD) AT THE END OF YOUR VISIT

CLUB CAPACITY WILL BE 50 MEMBERS. GUESTS WILL NOT BE PERMITTED FOR THE INTERIM

SNOOKER TABLES, POOL TABLE AND DART BOARDS ARE NOW PERMITTED (eff. 07.07.2020)

FRUIT MACHINE, TICKET MACHINE AND JUKE BOX WILL BE ON. THERE WILL BE A CLEANING STATION PRIOR TO USE

THESE RECOMMENDATIONS HAVE BEEN PROVIDED BY THE ASSOCIATION OF CONSERVATIVE CLUBS IN CONJUNCTION WITH GOVERNMENT LEGISLATION.